Apologies, as this post is long overdue.
I promised myself this year I would have posted more often because I would have had more free time to dedicate to my knitting and crochet. But then, as usual, life happens and you need to go along with it.
The project I am showing you today is very close to my heart because it took me some time to make it, and also because it is my first real design project.
I discovered the joy of knitting shawls only in the past year or so. I never thought I would enjoy them so much, but I quickly discovered that I really really do. I made several ones as presents for family and friends in the past year, and with each of them, I learned a new technique.
This learning process gave me confidence and I started toying with the idea of creating my own design for a shawl.
One day, while I was at my local yarn shop The Knitting Corner, I saw this luxurious yarn and I simply fell in love with it.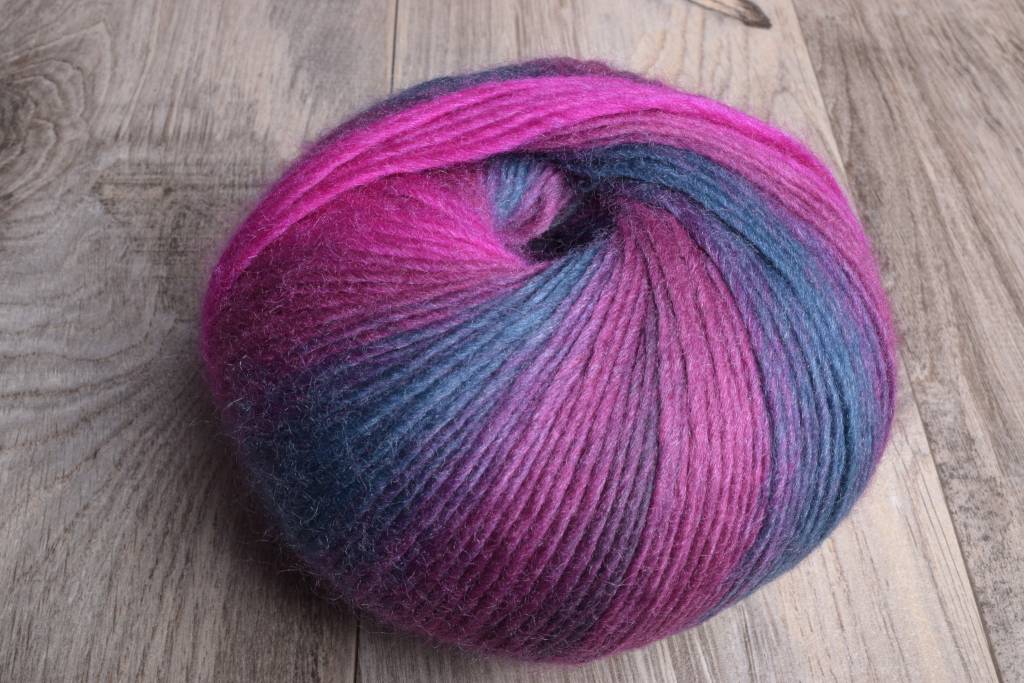 (Louisa Harding Amitola – 80% wool, 20% silk)
I cannot describe how amazing it feels to the touch! So soft, natural and organic… It was at that moment that I decided to take the plunge and get creative.
The colour shade was really the inspiration behind this shawl. You see, I always had a fascination for mermaids and sirens. As I child I spent hours reading stories about them and I also pretended to have a mermaid tail while I was bathing or in the pool. Needless to say, the Little Mermaid's story was one of my favourites.
This yarn brought me back to those memories. As I was knitting my swatch I could see the stripes forming and the alternation of the colours really gave my heart a little jolt of happiness. I was just missing a little extra shine and my childhood memory would be entertained!
Luckily, in the months I spent experimenting shawl knitting, I also learned how to knit with beads (both threaded and hooked as you go). It was a bit of a challenge for me to include beads in my first shawl design, but I felt the addition would really make a difference.
Truly, knitting with beads is not difficult. It simply requires a little of patience and a very small hook (0.5/1.0 mm) or some dental floss! YouTube has plenty of fantastic tutorials on using beads while knitting, but my favourite learning method remains a well explained written one, like the one made by Katie Rose on her blog "Spin, spin, spin".
And here we go, I tried to create an edge that would be simple, but fabulous (at least to my eyes). I used Debbie Abrahams size 6 (4mm) beads, Night Sky.
It all started with the edge… but it continued with short rows. Yes, one thing I learned from my experience with shawls is that I prefer to knit them bottom-up (or edge up). Even if I understand the pros of traditional top-down knitting (measuring the size and the length of the shawl as you go is the main one), I still prefer the fact that after a few VERY VERY VERY long rows (over 300 stitches), I will be out of my misery as I will have fewer stitches to work for the body of the shawl.
Besides, short rows are fun! And they surely help when you want some mindless knitting that does not require precise counting. Set your marker at the edges and knit until you get there. Rinse and repeat until you finish your shawl!
And this is how my shawl turned out.
Indeed, I was really pleased with myself and after receiving some really encouraging feedback I decided to write down the pattern and also publish it on Ravelry. If you want to give it a go, you can find the pattern here.
I am still knitting avidly and I have quite a few projects that I want to share with you all, just bear with me… I promise I will take the camera out and get ready for more posts. In the meantime, I will keep contemplating your amazing creations over Facebook groups, blogs and Ravelry pages… you all are really inspiring!
Until the next project, be safe, keep knitting, have fun!